CHRISTMAS PLAYS FOR CHILDREN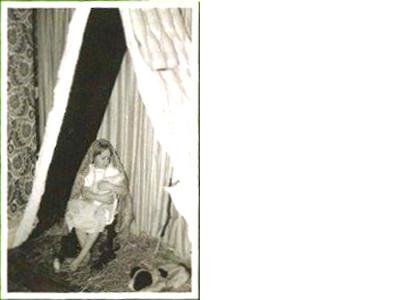 PUBLISHED PRICE:
1st edition: £9.50, 2nd edition: £9.00
CURRENT OFFER to Personal Customers £8.00 UK post-free
About this book:
These CHRISTMAS PLAYS were written for my own four children, when small; one a year, over a period of five years. They were performed in our Chelsea mansion flat, to entertain family, friends and neighbours. Quite undated (except perhaps that I am Mummy', not Mum'!), they are short, simple plays, requiring no special scenery, and very few props, for children aged between five and thirteen, and they can equally easily be put on either at home or at school. The names can of course be changed to suit any cast.
In his detailed Introduction, David Holloway, a former, eminent literary editor of the DAILY TELEGRAPH, wrote: 'I am sure the plays will be of interest, not so much for slavish reproduction but as a basis for an adaptation to fit any (group) of children who want to act.'
CHRISTMAS PLAYS FOR CHILDREN is a soft cover edition, in large (play-script format), spiral bound for ease of copying. I hold the copyright, but am allowing free copying of two books from one book bought.
Reviews & Press Coverage:
Extracts from the media coverage:
CHRISTMAS PLAYS FOR CHILDREN: for Home or School Production:
'Here's a novel idea for Christmas: turn off the telly, forget the ice show and get the kids to put on some home entertainment instead. Just like in the old days. 'Arundel-based writer and publisher Sandra Saer, who was bringing up four children and couldn't afford the ice show anyway, did just that in the Seventies and even wrote the five seasonal plays, presented in this spiral-bound publication. 'They are, she says, adaptable scripts and stage directions, which serve as blueprints for both home and school production. We are invited to copy them at will. 'With their Carols, charming simplicity and feel-good endings, the stories are reminiscent of every school nativity play only this time you won't have to worry about your child having a temper tantrum and tearing off another little dear's angel wings in front of the school's parent posse. (!)'

Freddie Lawrence, SUSSEX LIFE