THE GIANT AND THE MOUSE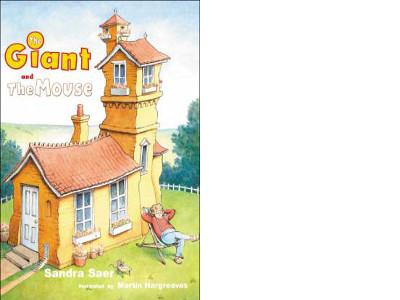 Offer to Personal Customers:
£8.00, UK post-free
About this book:
The beautiful illustrations by Martin Hargreaves, nephew of Roger Hargreaves of 'Mr Men' and 'Little Miss' fame, bring to life the gentle, fun-loving giant and the bustling, houseproud, scolding mouse. But for all their differences, the pair live together happily (well, usually!).
'It is not easy to imagine a giant and a mouse living together. But I know a giant and a mouse who did.'

So begins this delightful book, The Giant and the Mouse. The beautiful illustrations to the nine tales in it bring to life the fun-loving giant who enjoys the simple things in life, like picking and counting buttercups in the field and the bustling, house-proud, scolding mouse. Yet for all their differences the pair live happily together (well, usually!). The stories are for children aged four to eight, but they can be read to three-year-olds, as they are easy to understand. They are being read by the author to enthusiastic primary-school children up and down the country.
About the Illustrator:
Martin Hargreaves was born in 1963, and studied at Brighton College of Art. He has been working as a freelance artist and illustrator since 1987.
Apart from undertaking advertising commissions, he has illustrated several books. These include Gulliver's Travels for Dorling Kindersley; David Copperfield and A Tale of Two Cities for Oxford University Press; Mistress Masham's Repose for the Antique Collector's Club; and Oliver Twist and Little Women for Dalmatian Press.
Martin lives in Winchelsea, East Sussex.
Reviews & Press Coverage:
Extracts from the media coverage:
'BOOK PUBLISHERS LAY GOLDEN EGGS FOR EASTER' (HEADING for a feature in the WEST SUSSEX GAZETTE) THE GIANT AND THE MOUSE was one of them!
'Sandra is finding that the tales are just as popular with her grandchildren as they were with her children a generation ago.' (from the same feature in the WEST SUSSEX GAZETTE)
'an absolutely delightful book for children, telling the amazing story of how these two unlikely characters got on so well together.' (THE STANDARD, CHESTER
'Hundreds of youngsters were entertained this week at Petersfield Infant School by children'" author, Sandra Saer. 'Sandra said she was enjoying encouraging children to read. '
'It has been magic,' she said. Every time a child opens a book, they open an adventure. They do not know what they are going to find. If we can excite children about reading, they are readers forever.'
''The children (at Gerrans School, Portscatho, Cornwall) were giggling and laughing and making amazing comments. When I looked behind them, sitting cross-legged in front of me, I saw parents and grandparents listening, too. One grandfather kept putting his hand up to answer questions and to ask them! It was absolutely wonderful.
SANDRA'S GIANT ROLE IN BOOK WEEK' (a very apt heading for this feature!)'Local author Sandra Saer made World Book Day a special occasion for children at West Chiltington First School this week, when she conducted workshops with readings from her award-winning children's stories.' (WEST SUSSEX COUNTY TIMES)
'Youngsters were left spellbound by stories of a giant and a mouse, when children's book author Sandra Saer visited their school and read) her enchanting tales of the two unlikely housemates during the school's Book Week.' (PETERSFIELD POST
'the writer found the perfect illustrator for her work in gifted Martin Hargreaves, the nephew of Roger Hargreaves, who created the MISTER MEN and LITTLE MISS books.' (CHESTER CHRONICLE
SMH BOOKS website 'The stories were conceived for telling aloud, and they suit this perfectly. A chapter at the end of a quiet session would be very welcome to KS2 children.